In between a boisterous bar and a game's-over gambling den, the Arabesque Couture Boutique opened its single plate-glass door, elevating the end of the block from gritty to glittery.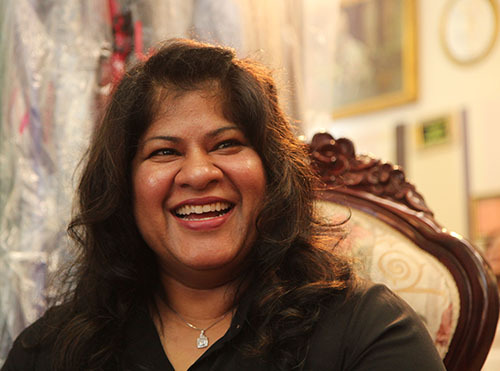 Photo by Nancy A. Ruhling
Shireen owns Arabesque Couture Boutique.
This Cinderella had no fairy godmother. The shop was born not of a magic wand but of a teenage need: Shireen Khan had to go all the way to Forest Hills to get a Sweet Sixteen dress for her daughter.
It wasn't a matter of indecision. Janan, a junior at Long Island City High School, is a young woman who knows what she wants.
It was the fact that aside from Buffalo Exchange, there are few places to buy clothes, much less formal eveningwear, in Astoria.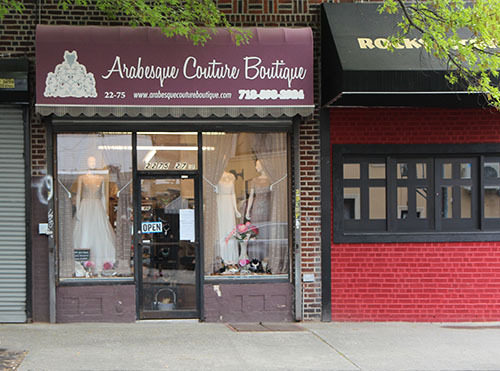 Photo by Nancy A. Ruhling
The shop on 27th Street at 23rd Avenue opened in March.
Shireen pulls a handful of fluffy-puffy ball gowns off the rolling rack, and Janan's eyes shine as brightly as their rhinestones.
"This shop is not about making money," Janan, who is 17, says. "It's about family."
The family she belongs to and is so devoted to is from Guyana. Shireen grew up in Georgetown, the country's capital city. Her parents brought their seven children — and their life's savings of $232 — to New York City when Shireen was 10.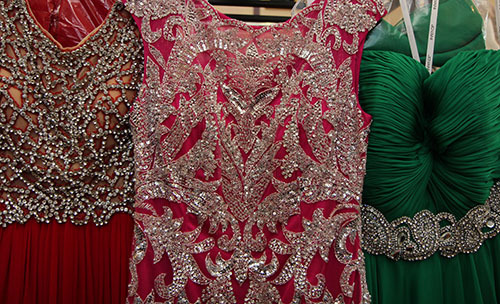 Photo by Nancy A. Ruhling
The shop sells special-occasion gowns.
"This was right after the Jonestown massacre," Shireen says. "The plane was filled with FBI agents and survivors of the mass suicide, but we didn't know it. When we landed, reporters were taking pictures, and my mother, dazzled by the big deal people were making over us, said, 'So this is how they welcome people to America!'"
The rest of their life in their new country was not quite as exciting. They were many and dollars were few, so they stayed, for a time, with relatives on the East End of Long Island.
When they finally got a place of their own, it was a triumph.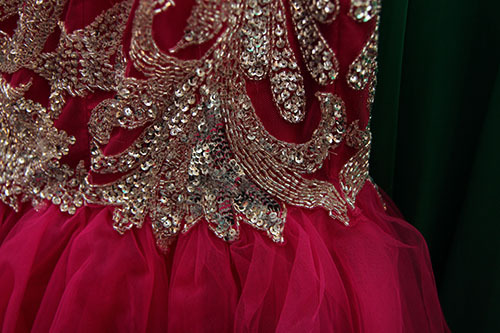 Photo by Nancy A. Ruhling
Sequins sparkling.
"We had no furniture, so we slept on the floor," Shireen says. "We had a couple of blankets and the paper bags the groceries came in. These became our bed. We had to be silent and be careful to come and go only in twos because we didn't tell the landlord there were nine of us."
After five years, Shireen's father had saved enough money to buy a house in Corona.
"It was $56,000, and he paid cash for it," she says. "Later, he bought a second house and rented it out."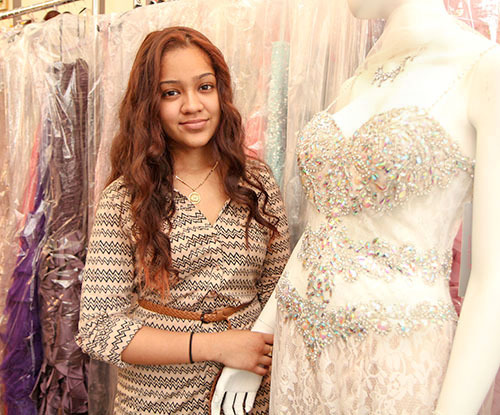 Photo by Nancy A. Ruhling
Janan helps her mom out at the shop.
Shireen, too, contributed to the family's finances. She started working at 16, first at C-Town then at Genovese.
"I was very innocent," she says, "because every part of my life was chaperoned. My brothers always picked me up from work, and I had strict curfews. Our family did everything together; we were never apart. When I was going on my honeymoon, I cried and asked my mother if she could come with me."
The honeymoon she's referring to was with Mahendra Premdas, a co-worker at Genovese.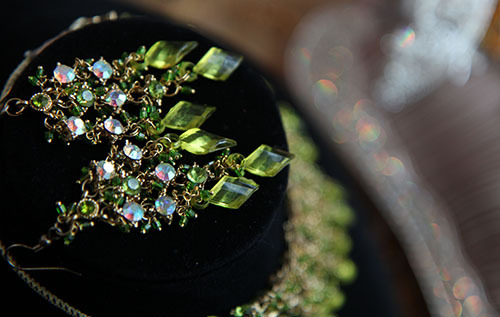 Photo by Nancy A. Ruhling
Earrings fit for a queen or a prom princess.
"I was his boss," she says. "He's five years younger, so he was still in high school when he started the job."
It proved to be a good match: He, too, is a native of Guyana and like Shireen's father, he worked hard to become a success and doubly hard to make her happy.
"I didn't take his last name because I wanted to keep the connection to my own family," Shireen says. "He was Hindu and I'm Muslim, but he converted for me."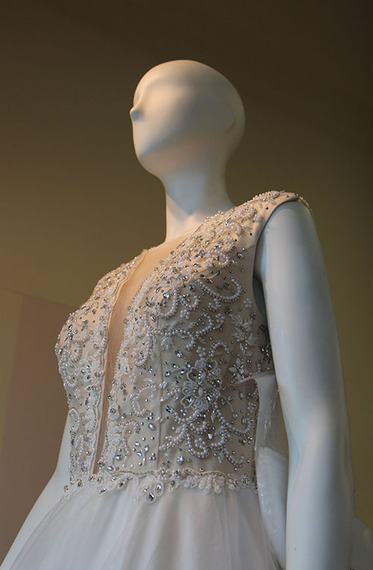 Photo by Nancy A. Ruhling
A gown waiting for a bride.
Shireen got pregnant on her honeymoon. The decision to move in with her parents was not so much financial as familial. They liked the idea of keeping everyone close, and they have continued the practice to this day.
She stopped working soon afterward.
"I fell down the stairs at work," she says. "I was so injured that I walked with a cane for seven or eight years after that."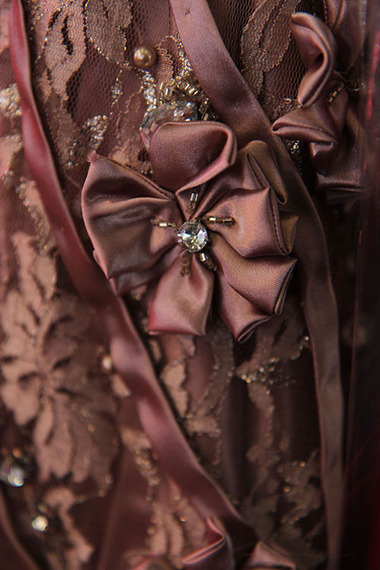 Photo by Nancy A. Ruhling
A dress detail in full bloom.
It pains Shireen that she was not able to help Mahendra support their rapidly growing family and that he had to work three jobs while getting a degree at Queens College.
But things worked out. Eventually, he landed a job with the Teachers' Retirement System of the City of New York.
By the time their second daughter, Liyah, was born, Shireen's parents were getting ready to build a house — her father called it the Taj Mahal — and move to West Palm Beach, Fla.
Photo by Nancy A. Ruhling
They have fun working together.
"I went there for what I thought would be a summer," she says. "But I ended up staying eight years. Mahendra stayed in New York because of his job. He didn't mind; it was he who encouraged me to remain there to help out."
It was in that sunshine city that she opened her first shop, which sold groceries and high-end West Indian fashions.
After her father died, she and her daughters returned to Astoria, where they lived, for a while, with her in-laws.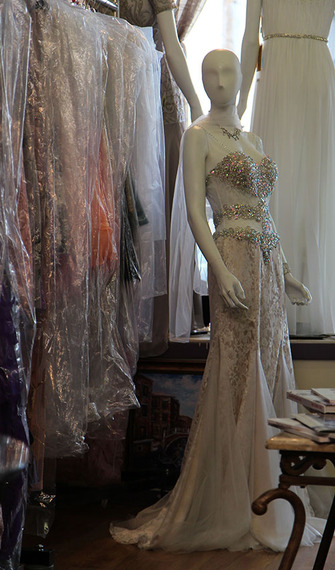 Photo by Nancy A. Ruhling
Shireen hopes to expand the shop.
Arabesque was conceived to carry their family tradition forward. It's a mom-pop-daughter-daughter enterprise.
Mahendra financed it and renovated the space; Shireen runs it; and Janan and 14-year-old Liyah, an eighth-grader at I.S. 204, handle everything from waiting on customers to promoting it on social media.
"Janan is the brains behind the business," Shireen says proudly, giving her daughter a big hug.
Photo by Nancy A. Ruhling
An Arabesque accessory.
Soon, Shireen hopes to expand Arabesque to the empty building next door so she'll have more room to display the bridal gowns and special-occasion dresses.
She sees the shop as a legacy for her daughters.
When Janan goes away to college — she wants to be pediatrician, an obstetrician or a gynecologist — Liyah will take on a larger role in the business.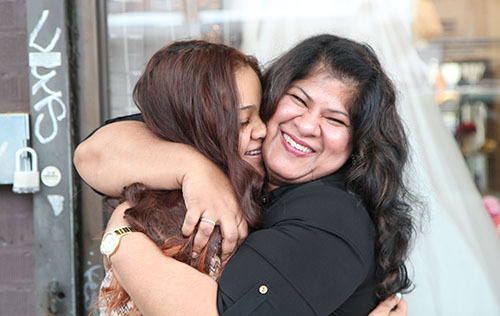 Photo by Nancy A. Ruhling
Janan and Shireen in a typical embrace.
Janan loves helping her mother out at the shop.
Her prom is next year. She doesn't have a dress yet.
"Working here gives me time to make sure I'm picking out 'the one,'" she says, all smiles.
Nancy A. Ruhling may be reached at Nruhling@gmail.com; nruhling on Instagram.
Copyright 2015 by Nancy A. Ruhling