There are some truths that are hard to take. This is one of them.
There is no Santa Claus. And there is no Dave at Dave's Shoes.
Yes, owner Morty Kay does answer to Dave, but that's just because he doesn't want to hurt your feelings or your feet.
It's not that there never was a Dave. Way back in 1947, when Morty was still in baby shoes, a man who would become his father-in-law and a man named Dave Goldberg started Dave's Shoes.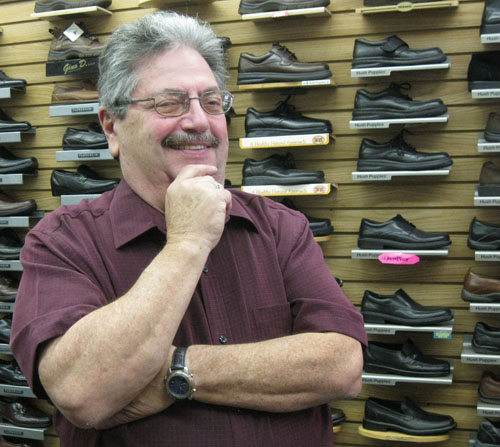 Photo by Nancy A. Ruhling
You can call him Dave.
When Morty took over in 1973, he didn't see a need to call it Morty's Shoes. After all, he wasn't aiming to be famous; he just wanted to make a living.
Morty, shoe size 8 ½ wide, is a big guy with a lion's mane of grey hair and matching wire-rim glasses. He likes to joke with his customers, and he buys his sensible SAS shoes at Dave's. His burgundy leather lace-ups match his shirt.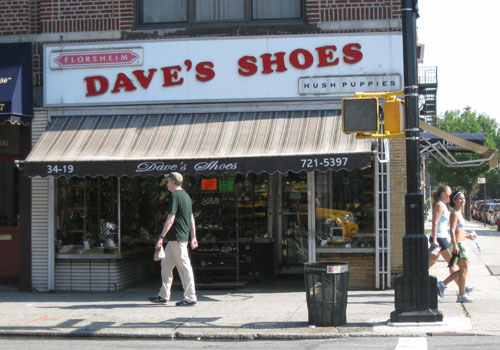 Photo by Nancy A. Ruhling
Dave's Shoes, a Broadway and Astoria icon.
The metal sale racks are outside, and Morty, by force of habit, starts lining up the shoes like soldiers. "You can always tell who's the boss at a shoe store," he says. "Nobody else would notice this."
Morty, who was born Morty Kamenitz, was the oldest of three. He grew up in Brooklyn. His father was a sign painter, and Morty remembers that one of their first places of residence was a two-room apartment in Bed-Sty.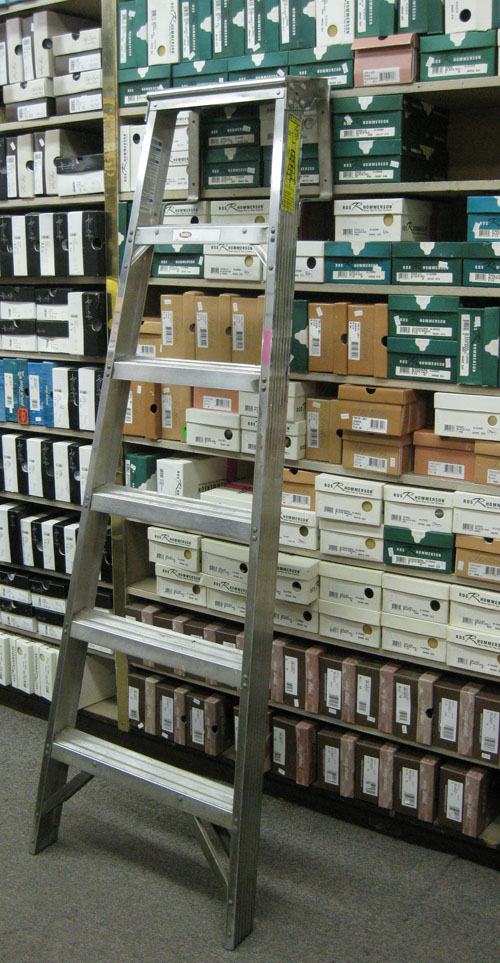 Photo by Nancy A. Ruhling
Dave's is like one wide shoebox.
"There was a kitchen/living room and one bedroom," he says. "That's it. My parents slept on one side of the bedroom; we were only two kids then, so my brother and I slept in bunk beds on the other side."
When Morty was 18, he took a job working in the mail room of an appliance company. "I didn't know what I wanted to do for a living," he says. "But I knew I wasn't going to be a sign painter like my father — da Vinci's son wasn't a painter."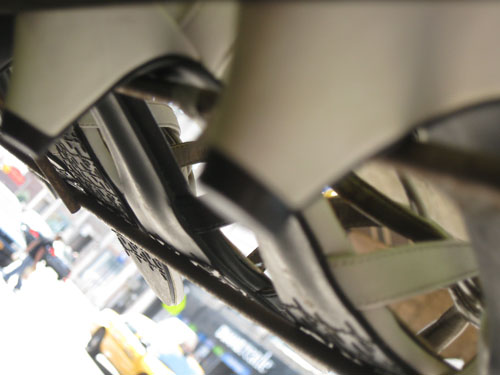 Photo by Nancy A. Ruhling
The heels of the city.
Ultimately, he ended up on Wall Street. "I had friends who worked there," he says.
He became a floor runner then a clerk and finally a partner. "I was the youngest non-sibling specialist on the floor," he says.
Life was swell. It was the late Sixties. Morty attended night classes at Brooklyn College, entered the Marine Corps Reserve, married the girl of his dreams and eventually had a son and a daughter.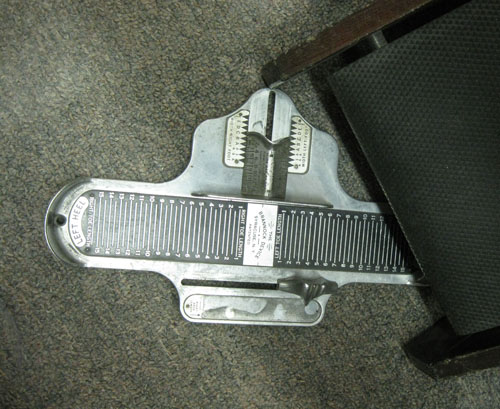 Photo by Nancy A. Ruhling
A shoe sizer of times gone by.
When the 1973-75 recession knocked him to the ground, Morty got up and walked into Dave's Shoes, which is where he's been for the last 38 years.
At the time, there were 13 independent shoe stores in the area; now, Dave's is the only one left. Through the years, the store has made a name for itself by carving out a narrow niche specializing in wide widths.
"I'm in the comfort business, not the fashion business," Morty says. "These are shoes for your feet, not for your eyes."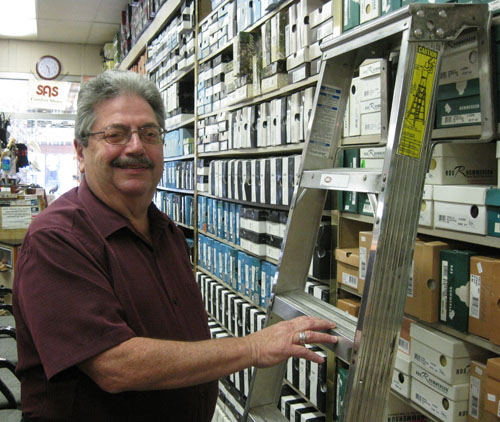 Photo by Nancy A. Ruhling
Morty has been Dave for 38 years.
Shoeboxes, filled with brands like Hush Puppies, Rockport and SAS, soar to the ceiling. Morty uses an aluminum ladder to reach the top shelves. He tries out every pair of men's shoes, and if they don't fit his feet — and his sky-high standards — he kicks them back to the manufacturer.
"I'm still here because this place is an anomaly," he says. "There are shoe stores and stores that sell shoes. I'm a shoe store."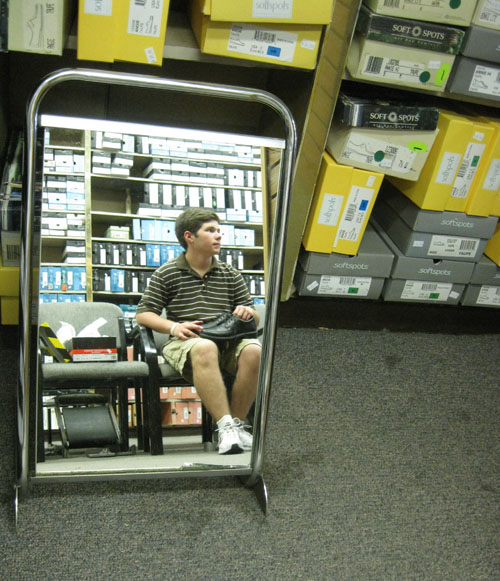 Photo by Nancy A. Ruhling
At Dave's, customers are like family.
A couple walks in and walks out with a shopping bag full of shoes. Another customer wants a Hush Puppies style that's no longer made so Morty shows him a Florsheim that fits the bill.
A family that has been coming into the store for decades stops in to say hello to Dave. Morty doesn't miss a beat before stepping into Dave's shoes.
"I love the contact with the people," he says, adding that he makes it a habit to say good-bye to customers in their native languages. "My hobby is making people smile and feel good."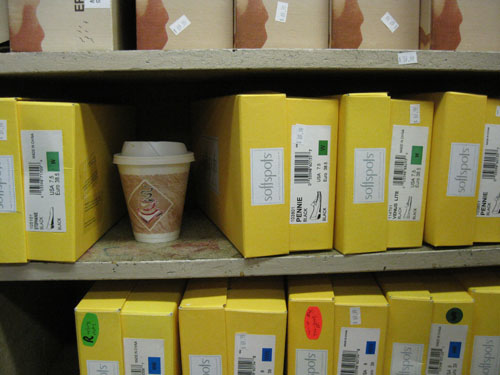 Photo by Nancy A. Ruhling
Make mine small and black.
Morty turned 69 this year, but he isn't really thinking of hanging up his laces. He has two part-time employees, so he's only working five days a week. And he doesn't mind his one-hour commute from New Jersey. During the 38 years he's been doing it, he's discovered all the shortcuts; any other driver would have to add 30 minutes to the ride.
"My wife would like me to retire today," he says. "I have no plans to do so, but if the right offer were to come along …"
But where would he buy his shoes?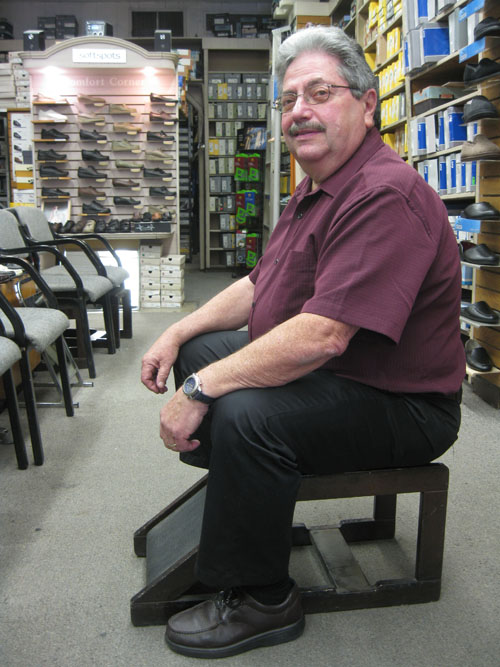 Photo by Nancy A. Ruhling
Morty at his station.
"Oh, I'd come back here," he says. "And maybe I'd even work at Dave's Shoes one day a week."
Perhaps someone in the future named Dave will take over Dave's Shoes. Morty thinks that would be great, but right now, he has to go because there's someone calling him… Dave.
Nancy A. Ruhling may be reached at Nruhling@gmail.com.
Copyright 2011 by Nancy A. Ruhling