In the living room, past the pair of wire cages that confine Melanie, Peaches and Shadow, there's a small black table that holds a toy car, a child-size football, a tablet engraved "Georgie" and a large color photo of a handsome man.
Marilyn Maras, curly honey hair, cherry-red lipstick and light lavender polish painting her nails and toes, reaches into a cage and shows off Melanie, who, at nearly 7 years, is her oldest guinea pig. At one time, when Georgie was with her, she had 17 of the mop-topped critters.
Guinea pigs only live about four years, so Melanie's days are numbered. When "the girls" are gone, Marilyn isn't getting any more.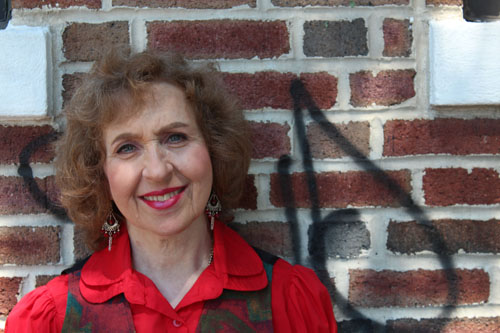 Photo by Nancy A. Ruhling
Marilyn has shed more tears than most.
"It's too painful to lose them," she says, adding that up until recently, there had been four. "I've had so many losses in my life."
Marilyn, little-girl cute in her flaring white skirt and red Peter Pan blouse, doesn't seek sympathy. She knows her sorrows and sufferings are of no interest to others, so she keeps them to herself.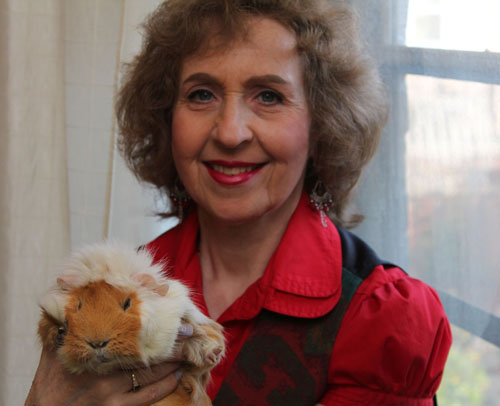 Photo by Nancy A. Ruhling
Marilyn with Melanie.
Childhood started out swell. She grew up on Manhattan's Lower East Side and received the attention due to an only child. Her parents were immigrants — her father came from Hungary, and her mother was born in Poland. They didn't speak each other's native tongues, but they bridged the gap with Yiddish.
At 12, death dealt Marilyn her first life lesson. This was so unfair — she always thought her father would be around forever. "I was devastated," she says. "My whole life turned upside down."
An ample insurance policy allowed Marilyn and her mother to live a somewhat comfortable life, but it couldn't compensate for their emotional loss.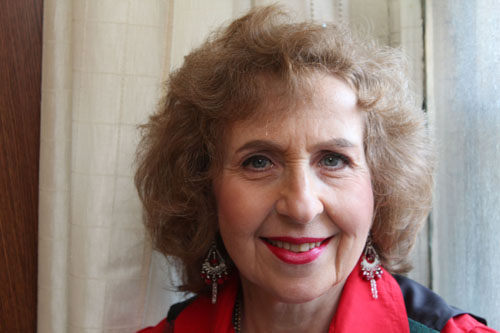 Photo by Nancy A. Ruhling
Marilyn has never told her story before.
"We fought all the time," she says. "And I used to run away from home."
It was the 1960s, and Marilyn felt the sweet call of rebellion coursing through her veins. She joined protests and created her own when she said "I do" at age 19.
"Marriage was a way out," she says. "Little did I know that I would go from the frying pan into the fire."
Her husband, she soon discovered, was a gambler, cheater and abuser. "He used to beat me with a leather strap," she says. "Later, he used wire hangers."
It took Marilyn seven years to get the courage to leave. Their son, Georgie, was only 6 when they divorced.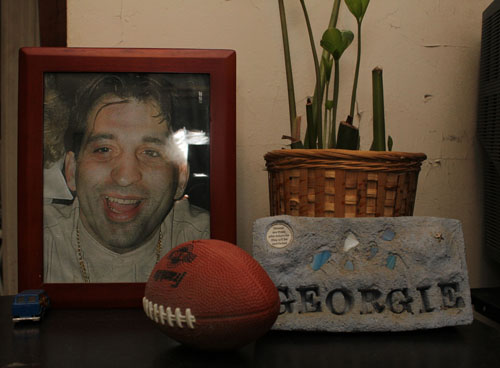 Photo by Nancy A. Ruhling
Georgie's ashes are behind the photo at the memorial in Marilyn's apartment.
Marilyn was free, but the things she needed — food on the table and money for rent — were not. This was one time luck was with her. She landed a job as a driver for a car service; she was the only woman who worked the roads. Then, one of her customers got her a job with a company that made prototypes for the cosmetics industry.
"It was a steady job with benefits," she says. "But I was on my feet all the time. And I kept getting headaches from the paint fumes."
She brings out an armful of snapshots, stopping when she gets to a 1988 photo of herself standing next to a smiling man.
"He was the love of my life," she says. "It didn't work out. He lived in Greece. I had a long-distance relationship with him for many years, but finally I had to let it go."
Photo by Nancy A. Ruhling
Marilyn, at about 5 years old
She reluctantly puts that photo back in the pile and gets back to practical matters. Yes, she needed to get a different job, so she went back to school, taking continuing-education courses in computer science.
Her hard work paid off. She became a legal secretary for a couple of criminal defense attorneys in Manhattan who had offices close to the World Trade Center. She was standing on the street when the towers fell on 9/11. She'll never forget the horror of that day.
While Marilyn was getting back on her feet, Georgie was losing his footing. By 13, he was drinking and doing drugs, addictions he would never be able to kick.
He snorted coke. He shot himself up with heroin. He got arrested for stealing radios from cars. He lost his left eye when someone shot him with a BB gun. He got blind-drunk and got behind the wheel; the near-fatal crash left him with a brain injury. He stole drugs from dealers and had to flee the country more times than Marilyn can count. Tests revealed he was bipolar. He overdosed again and again and again.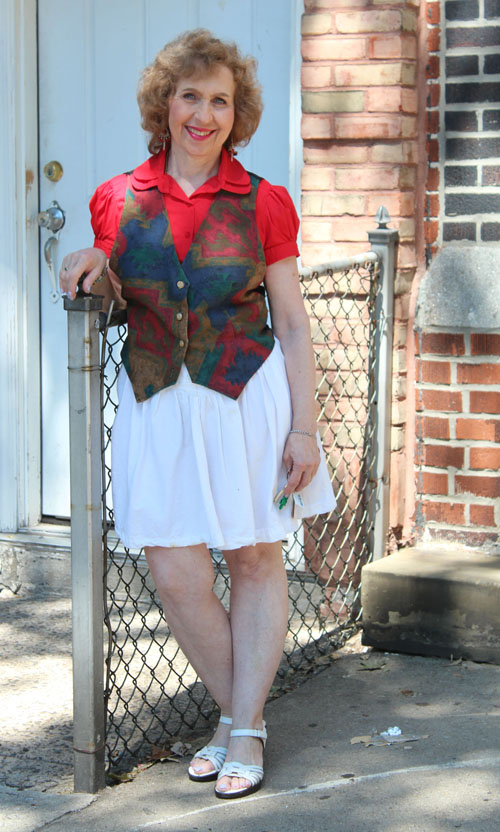 Photo by Nancy A. Ruhling
She's hoping to find a part-time job.
When he was doing these things, he made Marilyn cry. The stories still make her sob.
Rehab. Relapse. Rehab.
Hope. Despair. Hope.
Marilyn laid Georgie to rest on Dec. 13, 2007; he was only 39. The official cause of death was a heart attack, but the autopsy revealed lethal levels of bipolar medication and painkillers. (Marilyn tells his full story in an essay in the book Addiction: Collateral Damage.)
"There were no illegal drugs in his system," she says as proudly as if she's telling you he was elected president of the United States.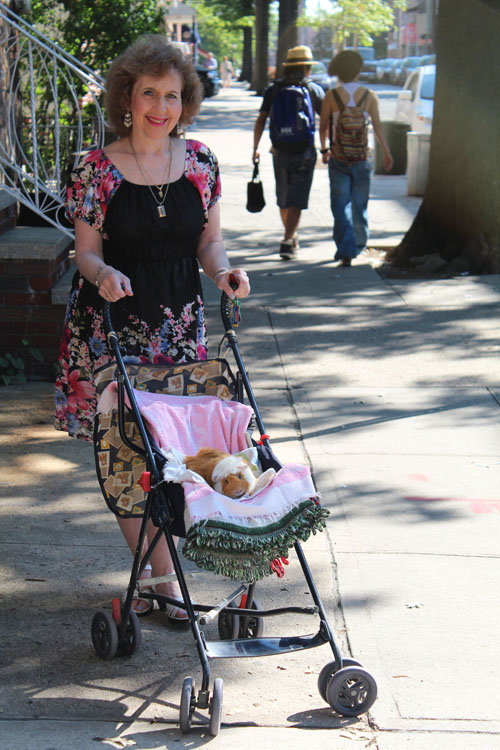 Photo by Nancy A. Ruhling
Marilyn taking Melanie for a stroll.
Every time Marilyn looks at Georgie's photo, it's as if she's losing him all over again. The two TVs, the loveseat and couch and even the kitchen table had all belonged to Georgie. She takes comfort in the fact that they, along with an urn filled with his ashes, will always be with her.
After his death, she had her own devils to deal with. In 2010, she was forced out of her job, and when she was denied unemployment benefits, she went to court and won them back. But that money's almost gone. At 64, she's on Social Security, and she needs a part-time job.
She fills some of her days with volunteer work at Covenant House, the first place Georgie was sent. He was so much better when he left there.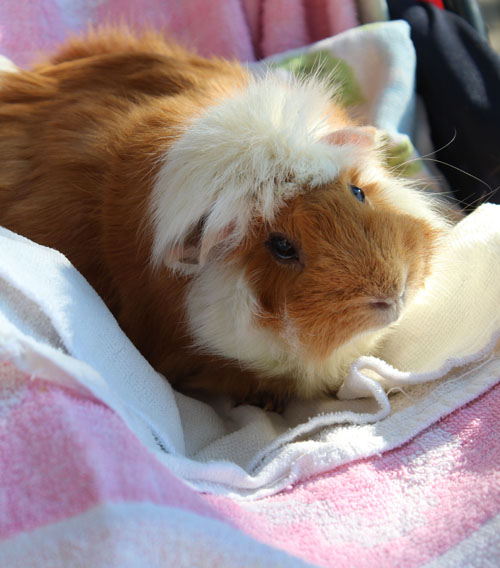 Photo by Nancy A. Ruhling
Melanie all cozy in the stroller.
"I don't know how I have survived all these losses," she says. "I didn't want to live, but I kept waking up every day, thinking, 'It's another day, and here I am.' My pets have been my saviors. Without them, I don't believe I could have survived."
There's one more thing; Marilyn doesn't like to talk about this even though it happened decades ago. She was sexually assaulted, and she had to testify at the trial. Her attacker was convicted, but his incarceration never freed her mind of the memory.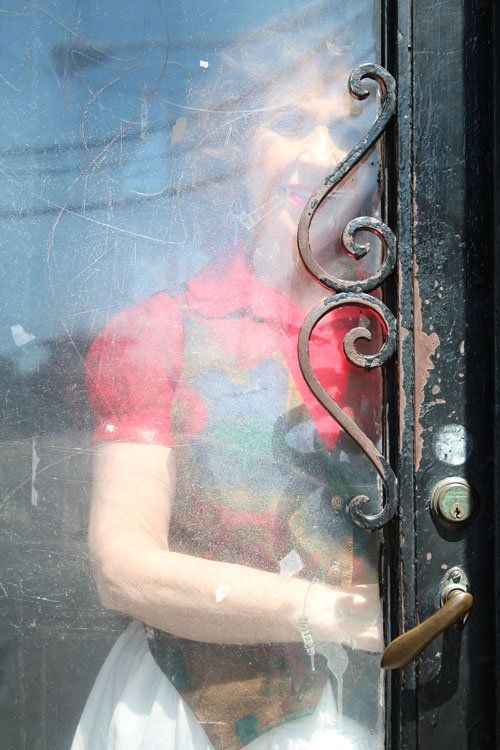 Photo by Nancy A. Ruhling
Marilyn tries to hide her pain.
That was then. Now is now. Marilyn's getting ready to go out, so she checks in on Melanie, Peaches and Shadow. They look up at her eagerly. She likes to put them in a baby stroller and take them on walks. But they're on their own today.
Marilyn's never told the whole story of her life before in one sitting. It's OK to be sad with her, but please don't be sad for her.
When she's ready to face the world, she wears a mask. At the front door, she puts it on and seals it with a smile.
Nancy A. Ruhling may be reached at Nruhling@gmail.com.
Copyright 2012 by Nancy A. Ruhling