There's not enough room in Teddy's Florist for the plants and the people, so George Stelios starts moving the flowers to the street.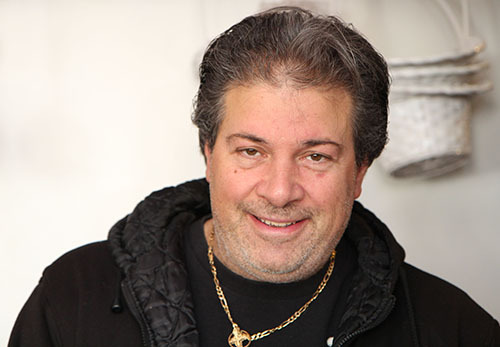 Photo by Nancy A. Ruhling
George has always been in the flower business.
He apologizes for the inconvenience. For three decades, he had worked in a much larger and more prominent space.
Teddy's Florist, which sold its first bouquet in 1922, was a 31st Street landmark even when he and his sister, Clare Petropoulos, bought it in 1984.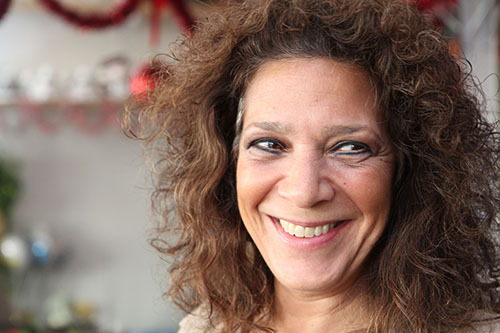 Photo by Nancy A. Ruhling
Before buying Teddy's, Clare worked in her mother's china shop.
George and Clare, Astoria natives, are the fruit of a flowering family tree. Their uncle opened Manhattan's first wholesale flower business, and their dad started working there at 15.
George, a gregarious bear with a big grin, learned the trade there, joining the full-time staff right after high school.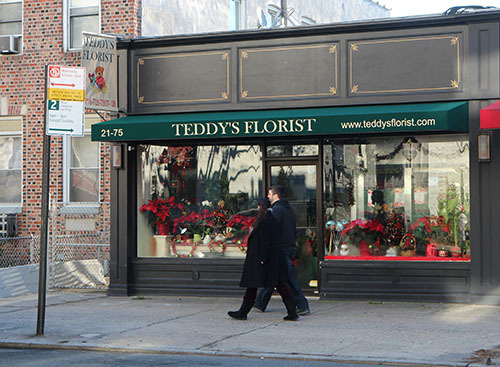 Photo by Nancy A. Ruhling
The new shop on 35th Street at Ditmars Boulevard.
Clare spent most of her career working in Astoria at her mother's crystal and china store.
When Teddy's was put on the market, they became its third owners.
"I love this business," says Clare, whose face is framed by rivers of ringlets that copy the color of her cocoa eyes. "I really love meeting the people. Our customers become our friends, and it's a beautiful thing."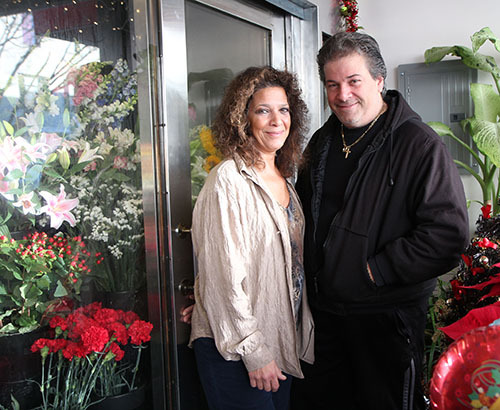 Photo by Nancy A. Ruhling
Brother and sister, not husband and wife.
It's not quite right to call Teddy's a mom-and-pop shop even though most of their customers think George and Clare are husband and wife. They laugh at the idea.
So does Sophia Christofides, George's fiancée, who rounds out the shop's staff.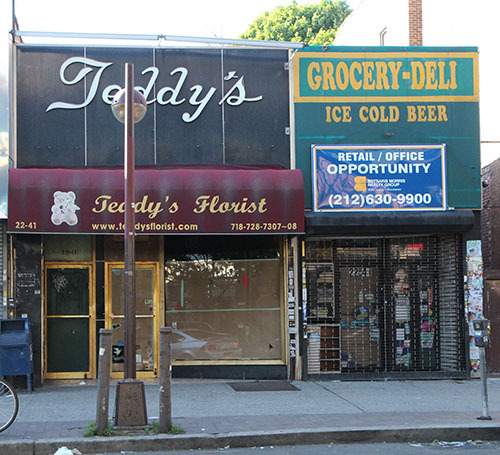 Photo by Nancy A. Ruhling
The old storefront on 31st Street.
For the record, Clare has her own flower-sending husband, as well as four sons, the oldest of whom just moved out of the house. George, the father of two, is divorced.
George and Clare would have been more than happy to keep Teddy's in its original location on 31st Street alongside the subway stairway, but their longtime landlord sold the property, and the new owners raised the rent 400 percent, to $16,000 a month. Plus real estate taxes.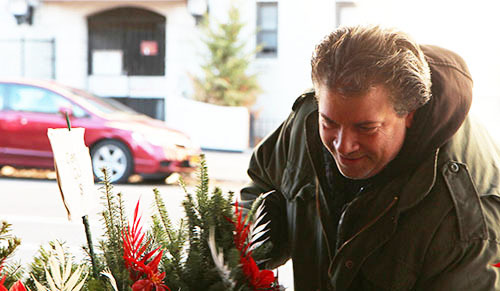 Photo by Nancy A. Ruhling
George sets up the street displays.
For a while, they thought they would have to retire Teddy's. It's really hard to work for someone else when you've been your own boss for decades, so they feel lucky for this new start.
The move, to 35th Street at Ditmars Boulevard, has been challenging.
The old place had a large storefront, plus a basement and a backyard. Clare's husband built shelves in their garage to store supplies, and they rented a nearby warehouse for seasonal merchandise.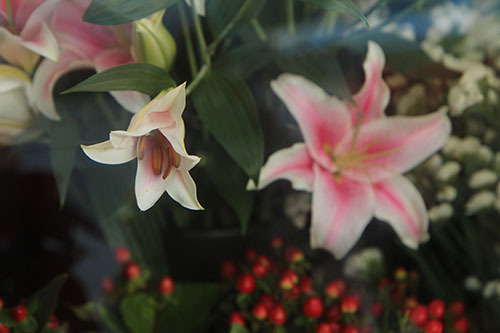 Photo by Nancy A. Ruhling
A fresh-cut lily waiting to join a bouquet.
"This has turned out to be an excellent location," George says. "We have gotten many new customers, and many of our old ones have found us again."
Teddy's does things the old-fashioned way. George and Clare not only create the arrangements, but they also design them.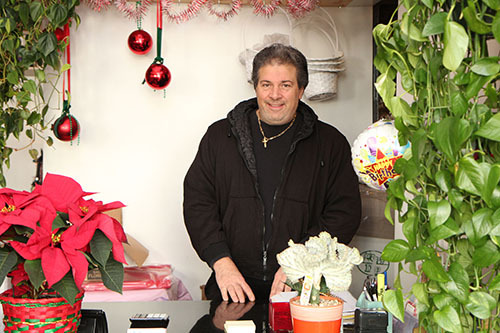 Photo by Nancy A. Ruhling
George is behind the counter six, sometimes seven days a week.
"We're able to save customers a lot of money because of this," Clare says.
Weddings and funerals are their forte. These deadline projects often keep Clare and George at Teddy's far into the night.
Officially, the shop is closed on Sundays. Unofficially, as longtime customers can attest, George is available then, too.
It's been six months since the big move, but George and Clare still have a lot to do.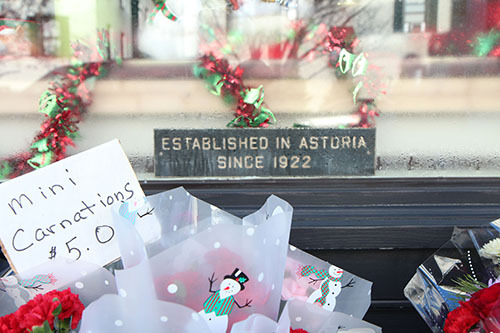 Photo by Nancy A. Ruhling
The window sign says it all.
They want to change the lighting system to make their sign more visible, and they want to display their collection of thank-you notes on the wall.
George and Sophia hope to get married soon. Sophia's so eager to change her name to his that she stumbles when she starts to spell her own.
What with Teddy's relocation and all the attendant adjustments, they haven't had time to think about a wedding, much less about what kind of floral arrangements they will create to celebrate their union.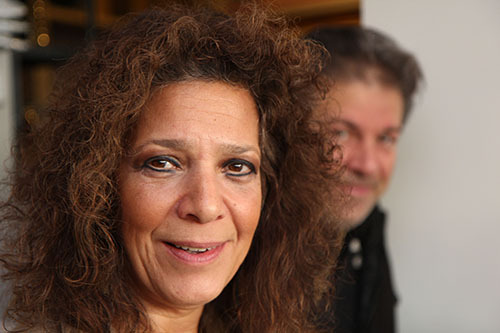 Photo by Nancy A. Ruhling
They're making new history for Teddy's.
Although Clare and George will never be able to capture the quaint ambiance of the old space, where the past was preserved like prom posies pressed in the pages of a prayer book, they are eager to make their own history.
They're just not sure how long it will be.
Clare, who will turn 58 in a matter of days, declares that she's going to retire in five years. When she thinks about it, though, she tosses her head and laughs.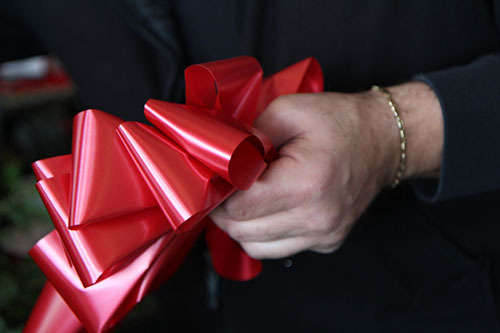 Photo by Nancy A. Ruhling
For George, a bow not a bow out.
She backtracks, adding that even when she is not running the store, she will continue to do Teddy's books if for no other reason than nobody else ever has since they took over.
George, standing in his snow-white sneakers on a bed of pine needles, ties red bows with robotic precision.
His hands, five years younger than hers, move with the surety of a man who knows that this is where he belongs.
Nancy A. Ruhling may be reached at Nruhling@gmail.com.
Copyright 2014 by Nancy A. Ruhling