Espresso. Giuseppe Viterale never starts or ends the day without a cup of it. He fires up a little gas burner, spoons in the ground coffee and puts the aluminum one-cup pot atop the steady blue flame.
"This is like a religious ritual for me," he says.
As the dark-chocolate drink begins leaking out like crude oil, Giuseppe pours a little into his glass teacup and mixes it with sugar until it has the fluffy froth of mocha mousse.
"This is better than any fancy coffee machine," he proclaims with passion. "You can use even the cheapest coffee. When you do it this way, the cream always stays on the top."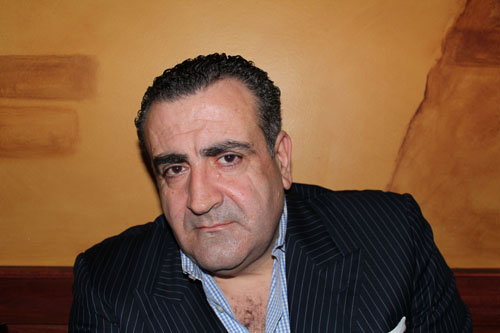 Photo by Nancy A. Ruhling
Giuseppe opened Ornella in 2009.
For Giuseppe, a tall, dark man who looks as though he was born into his navy-blue pin-striped suit, tieless shirt, silver cufflinks and Rolex, food is storytelling, and he uses his restaurant, Ornella Trattoria Italiana, to spin each tale.
The espresso? This is the way he used to make it in Rome when he was studying to be an architect. His chestnut pasta, it's a World War II dish born of necessity.
"Chestnuts saved a lot of lives because during the German occupation of Italy when grains could not be harvested, people made bread from chestnut flour," he says.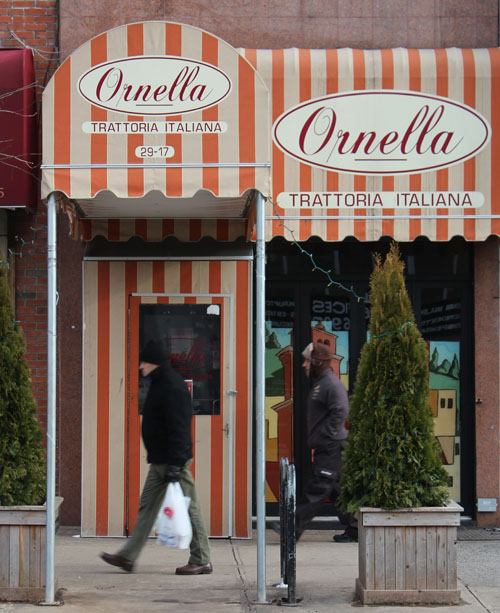 Photo by Nancy A. Ruhling
Ornella brings a bit of Italy to Astoria.
The chickpea pasta, Giuseppe got the idea for that from Italy's Cicerale, aka The Chickpea Town, where everything, he says, is made from them.
The pasta fagioli, which Americans call soup and Giuseppe considers a full meal, it's just the way his mother used to make it on their wood-burning stove in Rofrano, the Italian village of 2,000 people he grew up in.
In those days, it was one big family — the grandparents, parents and children all shared a house. Giuseppe's father owned a flour mill, a farm and a vineyard, and Giuseppe, his twin sister and younger brother were called upon to help out.
"It sounds romantic, but it was hard work," he says.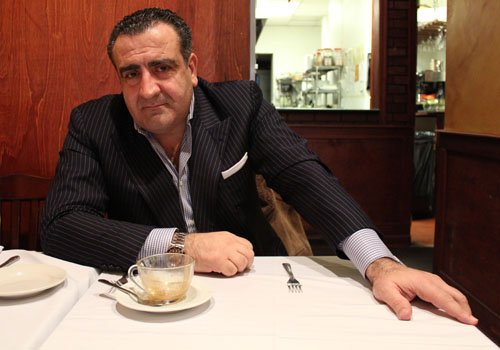 Photo by Nancy A. Ruhling
Giuseppe infuses food with history.
Giuseppe didn't want to work the land, he wanted to build buildings. Although he earned a degree in architecture, he didn't pass the exam right off the bat.
"I had other things on my mind at the time," he says. "I was involved in politics."
He longed for adventure and decided to visit New York for a couple of months. "I wanted to go somewhere where I didn't know the language," he says.
He rented an apartment in Williamsburg, Brooklyn, and he would have gone home had it not been for a chance encounter. "I met my future wife, Ornella, in the middle of the block," he says. "That was 24 years ago."
At first, he worked for a big construction company, but the recession of the 1990s all but ended that job. "I got into the restaurant business," he says. "I'd never worked in a restaurant, but as an architect, I had designed one."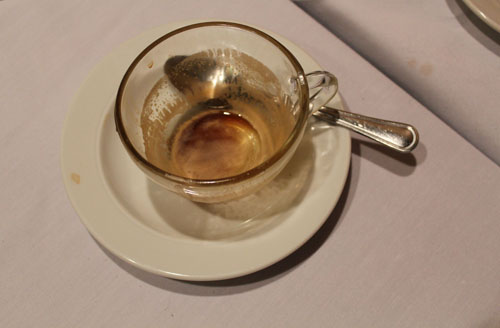 Photo by Nancy A. Ruhling
Giuseppe's ritual: two cups of espresso a day.
One month and seven restaurants later, when he had learned all he could, he got a full-time job in a Williamsburg dining establishment.
"A bum on the street told me that if I wanted to make money at this, I should go to Manhattan," Giuseppe says. "I listened to him and got a job as a manager and maitre d' at Cellini."
During the 15 years he worked there, he also invested in real estate, eventually buying 50 residential-rental properties. "I never forgot my roots as an architect," he says. "I bought in places nobody knew about or wanted — Bushwick, Bed-Stuy, Hunts Point."
Then he got the idea that he should have his own restaurant. The place — it still pains him to talk about it — opened across the street from the Four Seasons, but it didn't last a single season.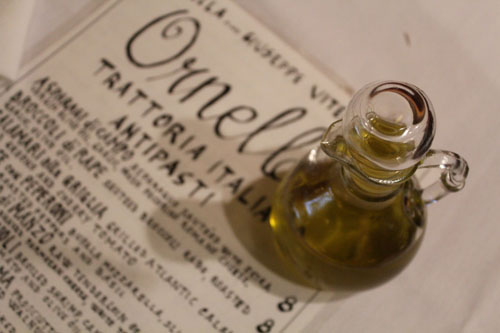 Photo by Nancy A. Ruhling
Hand-written menus say family style.
" I lost a fortune," he says, adding that he was forced to relinquish his real estate to pay bills. "The rent was $60,000 a month, and I had a celebrity chef who didn't work out. I didn't know anything about the food side of the business — I had only been in management."
Instead of quitting, he decided to rethink things and in 2009, he opened Ornella Trattoria Italiana, a galley-size, 50-seat eatery that announces itself with awnings of apricot circus stripes and lists its dishes on hand-written menus.
"I became crazy about food," he says. "I go to Italy all the time to find new dishes."
Ornella, which is named for Giuseppe's wife, is a family establishment. The couple's three oldest sons — 18-year-old Giovanni, 16-year-old Angelo and 15-year-old Pino — help out on weekends. Their 9-year-old, Massimo, is waiting to step up to the plate.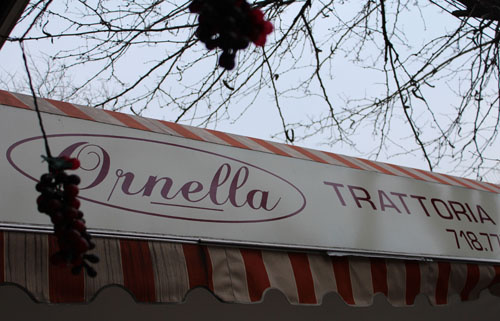 Photo by Nancy A. Ruhling
Ornella announces itself with a bold awning.
When they're not there, they're never far away: The restaurant is styled as an old-fashioned Italian village; the street signs painted on the walls are named for the boys.
"I put together all of my experience and put it into Ornella," Giuseppe says.
Giuseppe, who is 52, envisions greater things for Ornella. Soon, he will expand it, either by putting an addition on the back or adding the empty space next door.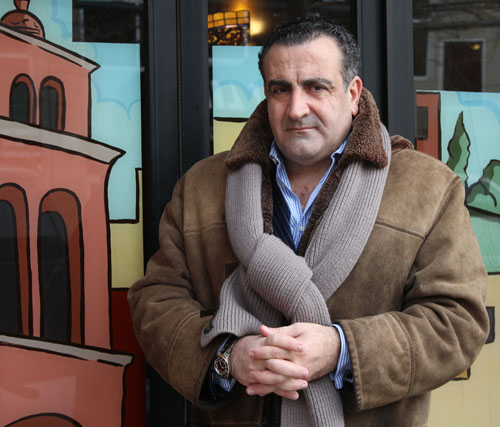 Photo by Nancy A. Ruhling
Giuseppe has plans to expand Ornella.
So many restaurants are so expensive that the locals can't afford them; Giuseppe sees this as a tragedy.
"I want to continue to bring good quality food and good prices to the neighborhood," he says.
He takes his empty teacup back to Ornella's kitchen. Tonight, when the last customer leaves, he'll make himself another.
Nancy A. Ruhling may be reached at Nruhling@gmail.com.
Copyright 2012 by Nancy A. Ruhling